AVM
INSPIRATION CS 2.2 4T
Compact CD Receiver
AVM's most compact music system of its All-In-One system range is the CS 2.2 BT
The CS 2.2 4T at a glance
Despite it's small size, the CS 2.2 BT offers a large variety of connectivity and control functions. All well known formats are supported when music is streamed from different sources such as TIDAL and Qobuz. Furthermore, the CS 2.2 BT offers a multitude of digital inputs like synchronous USB input and SPDIF in and outputs. A NAS or external drive are supported as well as a USB jump drive (stick). An excellent phono stage and a state-of-the-art Bluetooth 4.2 connection is on board as well as two line inputs.
The 165 Watt/ch strong amplifier easily handles all speakers, even critical speakers. Cutting edge technologies are applied when it comes to digital signal processing with all digital signals being up sampled to 192kHz/24bit and a dual DAC converting to analog signal from this format. All this ensures a perfect music reproduction from every applicable source. Special focus was put on achieving the most authentic reproduction from CD. The acoustically shielded Pure CD drive is spring mounted end effectively protected from vibrations and footfall.
Like all AVM hi-fi components the CS 2.2 BT is carefully developed and assembled by our engineers in Malsch, Germany. Our vendors for housing and electronic parts reside all near-by. This proximity helps us to easily ensure and maintain superb quality level of the supplied parts for the AVM hi-fi components made of these.
During the manufacturing process we perform repeatedly numerous tests to insure the absolute quality of our products. When the assembling is finished and the first inspection is done all units must pass a run in test in order to prove their reliability. After that a careful final inspection follows before packing & shipping. All this ensures creating a perfect product from AVM for our customers.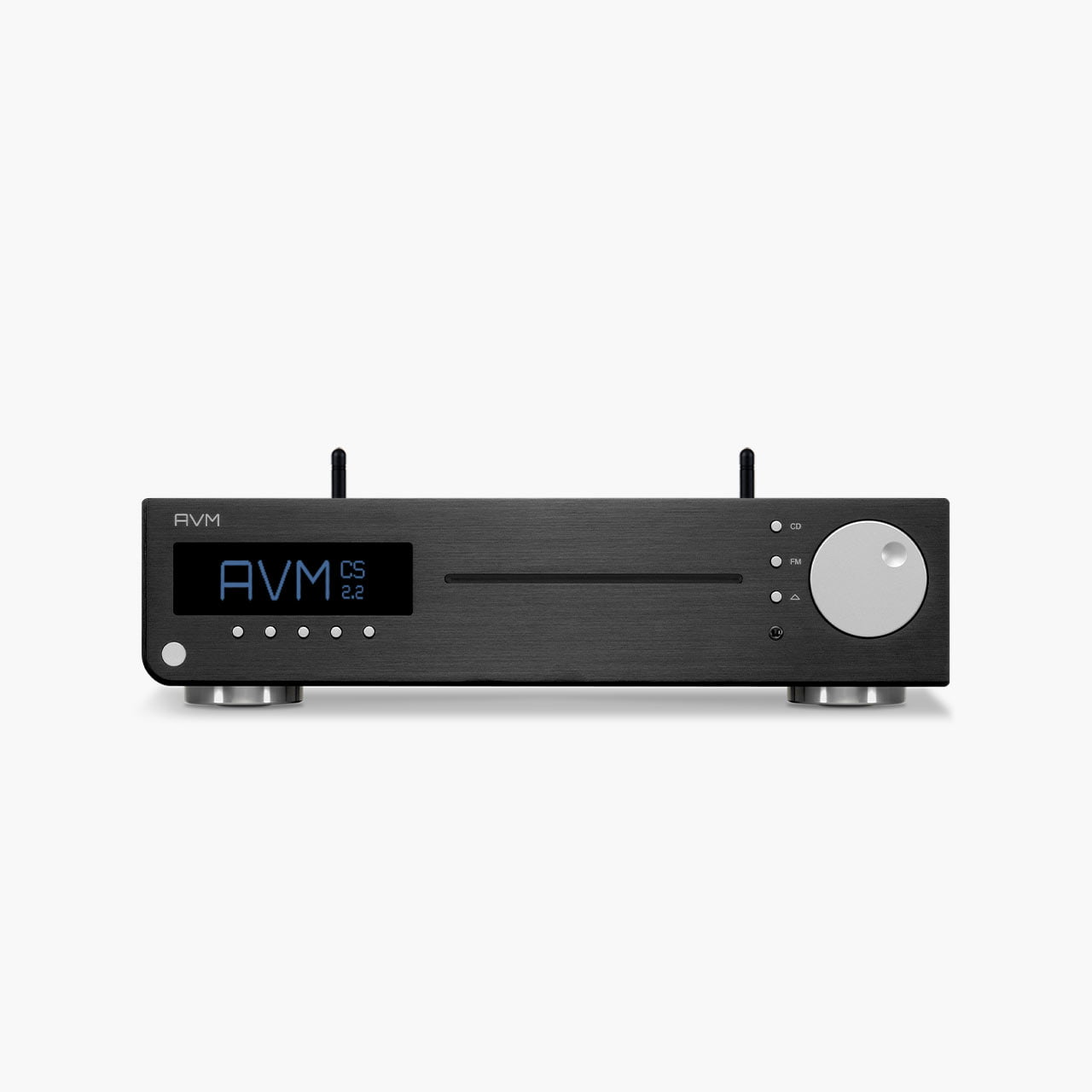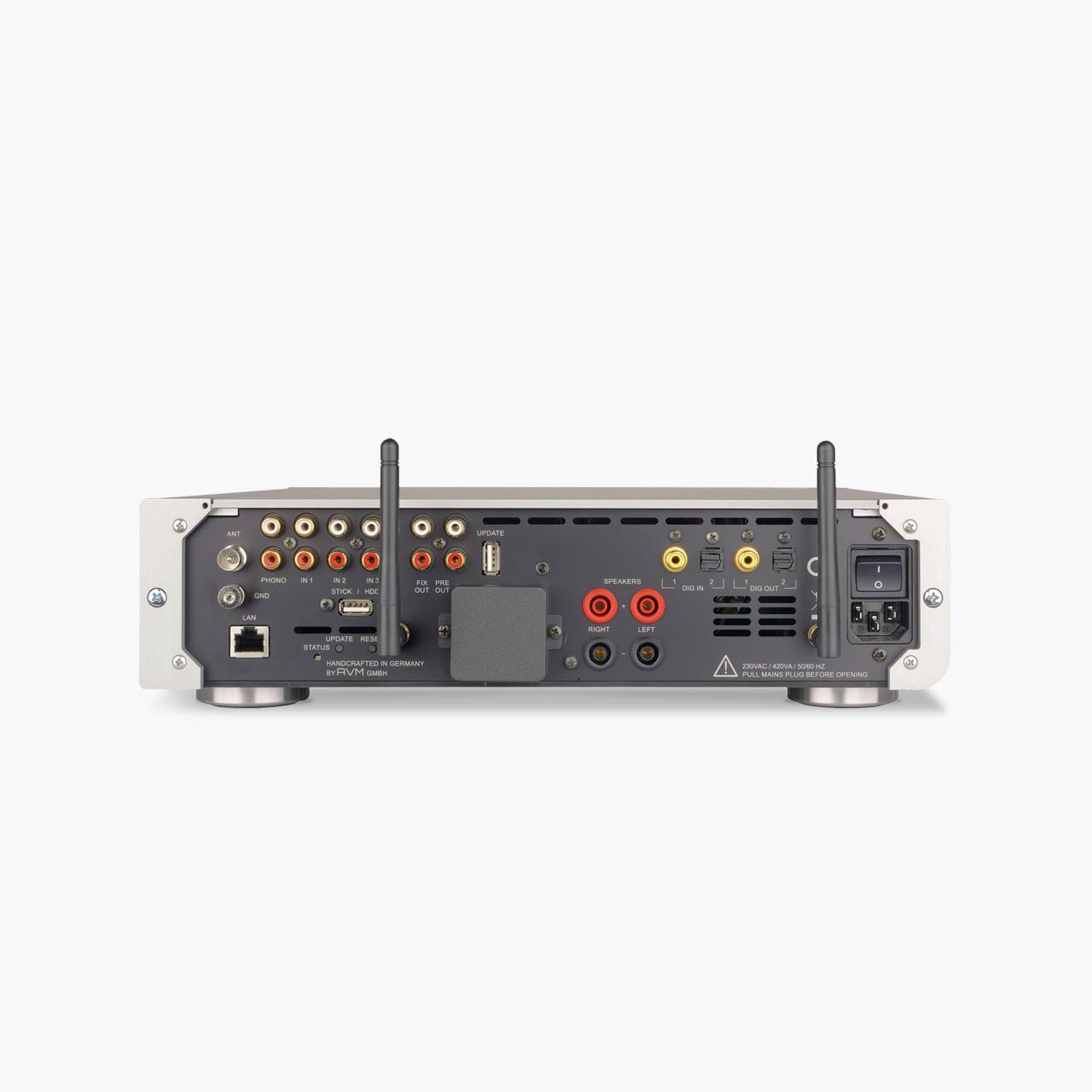 Specifications
Analog Inputs - 2 x RCA
Phono Input - MM / MC
CD Drive - TEAC Pure CD Drive
Bluetooth - HiFi Bluetooth (4.2 Standard)
Music Streaming - QOBUZ (CD Quality), TIDAL (CD Quality)
Digital Inputs - 1 x S/PDIF Coax, 1 x S/PDIF Optical, 1 x USB A (Stick/HDD)
Radio - FM RDS Tuner, Webradio via Airable Internet Radio Station Database (automatic updates)
Analog Outputs - 1 x Line/Fix Out RCA, 1 x Pre/Var Out RCA
Digital Outputs - 1 x S/PDIF Coax, 1 x S/PDIF Optical
Output Power - 2 x 165 W [4Ω]
Headphone Output - 3,5 mm
Speaker Outputs - 1 Pair
Network - LAN, UPnP, WiFi
Optional Remote Controls - RC 9, RC S App for iOS & Android
Tone Control - Balance, Bass, Treble, Contour (Loudness)
Finish - Aluminium Silver, Aluminium Black
Product Dimensions - 350 x 340 x 95 mm (L x W x H)
Product Weight - 9 kg
Product Line - INSPIRATION